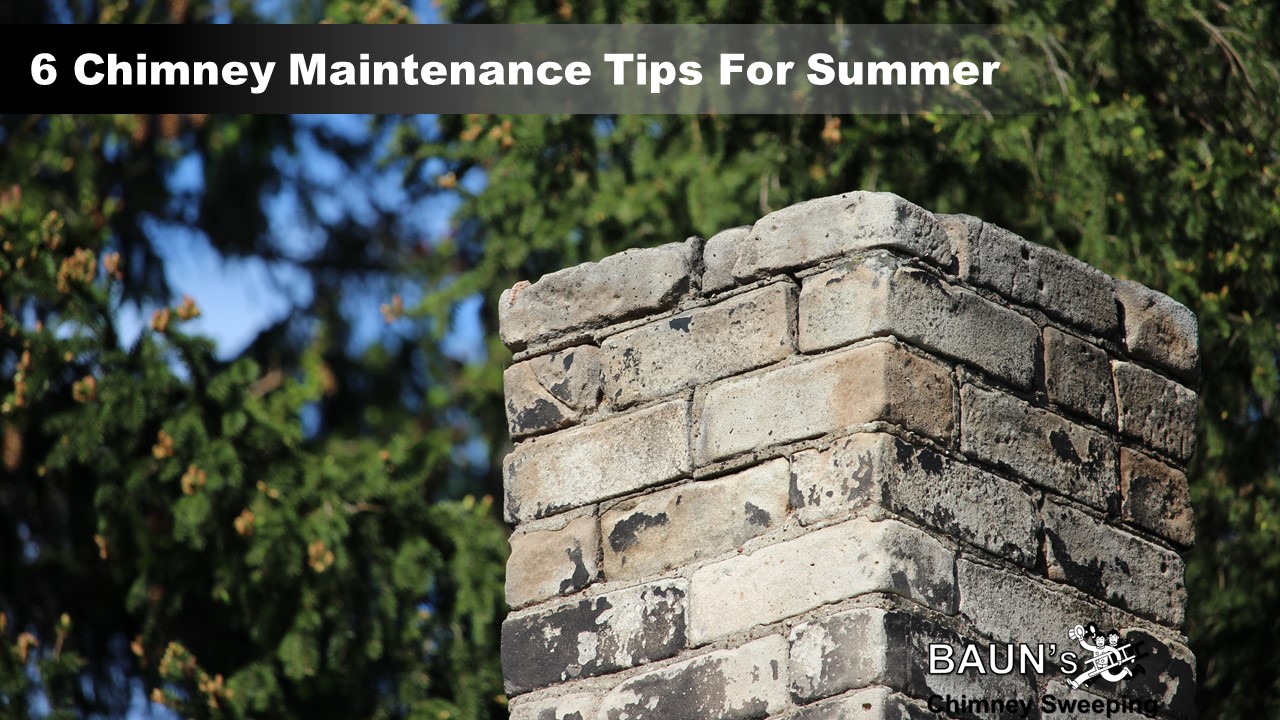 6 Chimney Maintenance Tips For Summer
How to Maintain Your Chimney During the Summer
When the weather is nice, the flowers are blooming, the birds are chirping and there's no use for the fireplace it's a perfect time to for some chimney maintenance. It is better to make sure your chimney is safe and ready for the winter before the colder weather sets in again. Early bird gets the worm, right?
Spring and summer are great times to ensure your fireplace is not faulty. If you need firebrick repairs, chimney caps replaced, chase covers fixed, the warmer weather is the perfect time to complete those projects.
Tips to make sure your fireplace is ready for the winter
1. Schedule a Chimney Inspection.
A professional chimney sweep is trained and qualified to inspect your chimney for any sign of wear, damage, leaks, cracks, or blockage. Failing to have your chimney inspected regularly will only cause more headaches down the road.
2. Schedule your Chimney Cleaning.
You may not always need your chimney cleaned if you rarely use it or do not use it at all, but it should be inspected at a minimum. If you do use your chimney, even if you have a pizza oven, schedule your chimney cleaning during the warmer weather. Keep in mind that it is normal for a chimney sweep to be booked 4-8 weeks out all the way up to the colder weather. The sooner you can be added to the schedule the better.
3. Close the Damper.
If you have a wood-burning fireplace, be sure to keep the damper closed when the fireplace is not in use. One main purpose of the damper is to seal off any air-flow, especially when you have the Air Conditioning running. Keeping the damper open could affect your energy bill. Keeping the damper closed can help to keep unwanted critter from entering the home. If your fireplace is gas, some experts recommend keeping the damper open in the event of a gas leak.
4. Check Your Chimney Cap. If You Don't Have One, Install One.
Every chimney should have a chimney cap. When complete with mesh, it will help to keep out animals and birds from entering the chimney. A chimney cap will also help prevent hot embers from the chimney landing on the roof and catching it on fire.
5. Clean the Ashes.
Making sure to clean out the ashes in your fireplace regularly will help with air quality. Keeping the fireplace clean of ashes will also help your fireplace look clean and ready to go for the winter.
6. Have Your Chimney Sealed.
If you have a brick or stone chimney, one thing you can do to help with any possible leaking and spalling bricks is to have the exterior sealed.  Having your chimney flue sealed with HeatShield® will also protect against moisture, corrosive flue gases, and temperatures in excess of 2900°F.
Ask a Chimney Sweep
Aside from having your chimney inspected and cleaned by a professional to ensure your chimney is in overall tip-top shape, if you have any questions whatsoever, ask a chimney sweep. The professionals at Baun's Chimney Sweeping are here to help with any questions or tips you may have – phone calls are free and estimates are free.
---
If you live in or around the Indianapolis, IN metro and are looking for a professional for a chimney inspection or chimney sweeping, consider Baun's Chimney Sweeping.