HeatShield® Flue Sealant
"Restore your chimney with HeatShield®"
---
Are There Hidden Dangers in Your Chimney?
Even the smallest defects in your chimney could grow into bigger problems and put your home and family at risk.
With Baun's Chimney Sweeping Level 2 chimney inspection, using our special cameras to view inside your chimney, we have the ability to see if you have deteriorating mortar or cracked clay flue liners or spalled clay flue liners or any other potential defects that compromised the integrity of your chimney.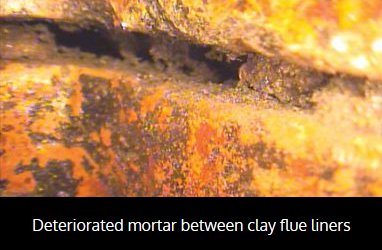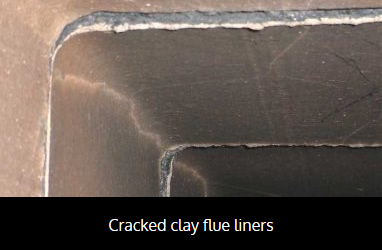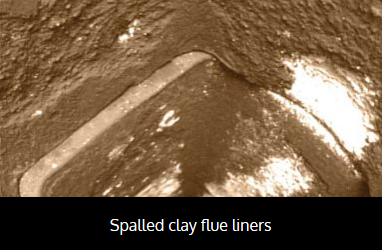 Chimney Safety Institute of America (CSIA)
According to the CSIA (csia.org), problems such as gaps, cracks and spalling in your chimney's flue can present serious risks to your home and family, because your chimney can no longer perform its intended function – to safely contain and vent the products of combustion to the outside.
Building Codes
Building codes and fire standards require that chimneys are structurally sound, durable, smoke tight and capable of conveying flue gases to the outside completely and safely.
National Fire Protection Association (NFPA)
If the flue liner in a chimney has softened, cracked or otherwise deteriorated so that it no longer has the ability to contain the products of combustion (i.e., heat, moisture, creosote, and flue gases), it shall be removed and replaced, repaired or relined…" NFPA 211-Standard for Chimneys, Fireplaces, Vents and Solid Fuel-Burning Appliances (2006).
---
Protect and Restore Your Chimney with HeatShield®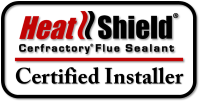 One of the best ways to protect and restore the integrity of your chimney flue is with a hybrid (ceramic/refractory) coating called HeatShield®.
Developed in Europe over 20 years ago, HeatShield's® Cerfractory® technology is  proven effective both in use and by independent lab testing.
As a repair, it's been proven to withstand moisture, corrosive flue gases, and temperatures in excess of 2900°F. It's rated a "Super-Duty" refractory mortar per ASTM (American Society for Testing and Materials) C199. It surpasses both National Fire Prevention Association (NFPA) and International Residential Code (IRC) which require only a "Medium-Duty" refractory mortar for use in fireplaces and chimneys.
It is an approved "all fuel" chimney liner and listed to UL 1777 by Warnock Hersey with the addition of the CeCure® Sleeve. To learn more about HeatShield's® extensive testing, listing, and certification visit HeatShield® technology and testing.


---
Economical and Environmentally Friendly
HeatShield® is an "eco friendly" product made from recycled and naturally occurring materials. Installing HeatShield® also offers a less costly alternative to rebuilding your chimney or the destructive removal of flue tiles before the chimney can be relined.
20 Year Limited Warranty
Whether your chimney requires repair or relining, HeatShield® is covered by a 20-year material warranty. Ask us for details.
Baun's Chimney Sweeping Services
SERVICE AREAS
Indianapolis Southside • Greenwood • Franklin • Columbus • Nashville
Michael is a straight shooter who knows his business, no pressure upselling, just facts, quality materials, and reasonable price. He told me why my stone chimney was leaking (mostly gutter issues) and what to look for, what to use for basic repairs.
Anthony
Michael is amazing!! He was reasonably priced and wonderful with my kids and dog! I will use him exclusively from now on and will recommend him every chance I get!
Jennifer
My company AP Construction Services Inc. has used Michael exclusively for 2 years now. We recommend his services to our clients because of his impeccable character, fair pricing and excellent craftsmanship.
Alan
A great professional company who I recommend highly to take care of all your chimney needs!
Holly
The absolute BEST! Thorough, reasonably priced, timely and just a great guy!
Kelly