Chimney and Fire Brick Repairs Done Right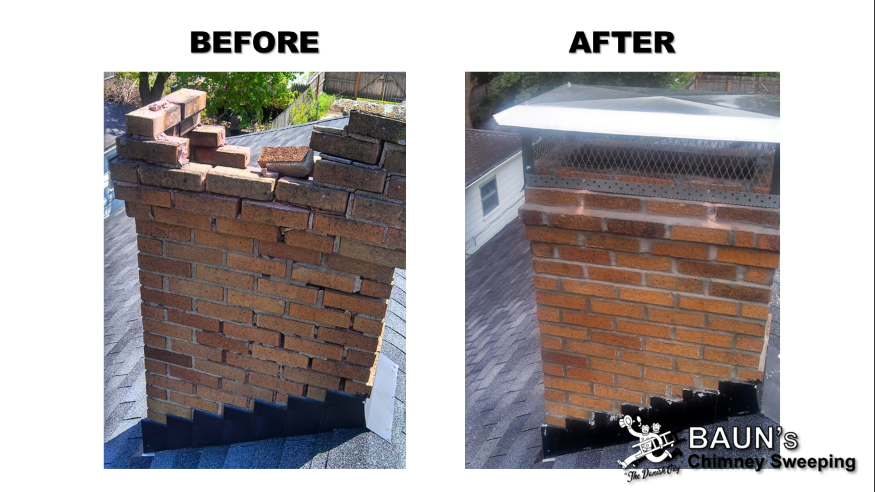 If you have a chimney then you may or may not understand how important it is for you to keep it properly maintained. After all, your chimney can be damaged by nesting animals, harsh weather and even general wear and tear; these damages can lead to cracks, breaks, leaks and more. Eventually, you will need to hire a chimney and masonry repair service.  If you want to make sure that you keep the cost down with your chimney repairs, if you can, make sure to be proactive with your chimney maintenance with annual chimney inspections.
Baun's Chimney Sweeping is one of the best when it comes to central Indiana chimney repair in and around Indianapolis Southside. We have always had great customer service, including winning 3 "Pulse of the City" Customer Service Awards and being nominated for Indy A-List for our craftsmanship and friendly customer service. We will always do everything we can to make sure that you receive the best customer service experience.
Chimney Repair and Fire Brick Estimates
Looking for a chimney repair estimate? Every chimney is different and until we have a better understanding of the requirements to repair your chimney, our experienced chimney professionals will always provide a quote for the cost of repairs before any work is performed on the chimney. With all our reviews and satisfied customers, you can count on us to really go that extra mile to provide an honest and fair assessment and price for the chimney service you need.
When to know your fire bricks need repaired

If you are not sure if you need to get a fire brick repair, you should pay attention for any "Smokey" odor coming out of your chimney when you don't have a fire. Look for any water leaks or unusual air drafts (other than the wind coming from your chimney caps). Also, if you have a wood fireplace or even a wood stove, you should also look out for:
Powder White Substances (exterior and interior)
Rust
Severe Cracks
Missing mortar
Holes
Missing Bricks
Severely Damage Bricks
Water Leaking
Anything You're Unsure Of
If you see any of these problems then our chimney sweeps would be more than happy to work with you to make sure that you get the chimney repairs completed in a timely manner. We would love to help you and we are always happy to assist if you have any questions or if you want to try and find out if there is anything that can be done in order to give you the best experience.
Insurance Claims for Chimney Repairs
Do you have an insurance claim for your chimney? Baun's Chimney Sweeping has worked with many homeowners on various insurance claims on chimney damages. We will work with you to make sure your chimney is in proper working condition once again. Although we can never guarantee a tree, lighting or Act of God won't ever damage your chimney, but if it happens, we're there to fix it.
Baun's Chimney Sweeping Services
SERVICE AREAS
Indianapolis Southside • Greenwood • Franklin • Columbus • Nashville
Michael is a straight shooter who knows his business, no pressure upselling, just facts, quality materials, and reasonable price. He told me why my stone chimney was leaking (mostly gutter issues) and what to look for, what to use for basic repairs.
Anthony
Michael is amazing!! He was reasonably priced and wonderful with my kids and dog! I will use him exclusively from now on and will recommend him every chance I get!
Jennifer
My company AP Construction Services Inc. has used Michael exclusively for 2 years now. We recommend his services to our clients because of his impeccable character, fair pricing and excellent craftsmanship.
Alan
A great professional company who I recommend highly to take care of all your chimney needs!
Holly
The absolute BEST! Thorough, reasonably priced, timely and just a great guy!
Kelly