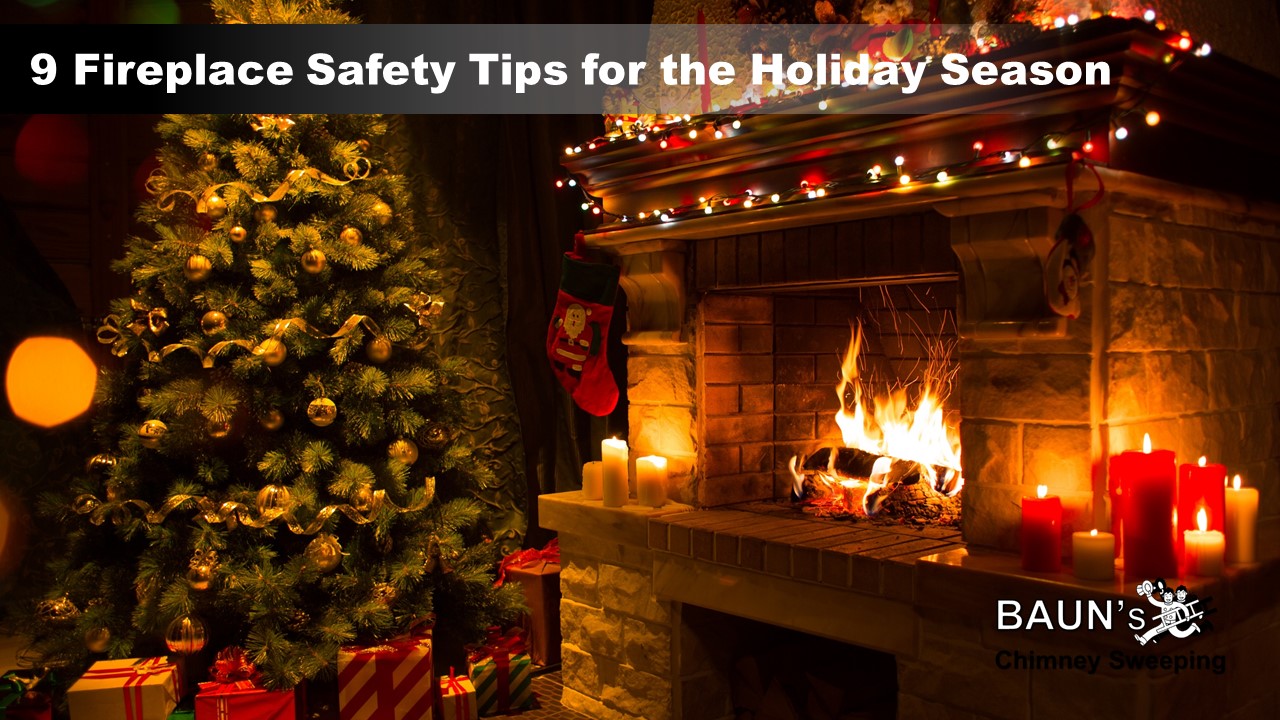 9 Holiday Season Fireplace Safety Tips
Fireplace Safety Tips For the Holiday Season
Many find the winter holidays their favorite time of year with colorful decorations, warming their feet by the fire, hanging ornaments from the mantle and the special activities with friends and family. However, before hanging those ornaments by the fireplace, make sure that to get a chimney inspection and cleaning prior to burning anything.
If you've had your chimney inspected this year, kudos. If you have not had a chimney inspection, we highly recommend getting one. In the meantime, there are some fire prevention tips we'd like to pass along during these festive holidays.
1. Chimney Cleaning and Inspection
We've discussed multiple times on this website the National Fire Protection Association (NFPA) recommends getting your chimney cleaned and inspected every year. A chimney inspection and cleaning can eliminated any hazardous soot, creosote, and glazing that could be in your chimney. And inspection will also analyze the integrity of your chimney and firebox to make sure it's all up to par before using the fireplace or wood stove.
2. Smoke Detector Check
Making sure that your smoke alarms on every level are in working order. It is recommended having some spare batteries that will fit your smoke detector. Hearing that loud chirp sound when your smoke detectors battery needs replace and realizing you don't have any spare batteries can be quite the bummer.
3. Carbon Dioxide Detector Check
Carbon dioxide is a dangerous gas that you cannot smell. It is important to take the necessary precautions to prevent carbon dioxide poisoning. Make sure to keep your Carbon Dioxide detectors working.
4. Burn Seasoned Wood
When you're burning wood in your fireplace or wood stove, make sure that you are only burning seasoned wood. The less moisture there is in the wood, the less soot and creosote buildup will happen.
5. Dispose of Ashes Properly
Dispose of ashes from the fireplace or wood stove with care. Sometimes there are unexpected hot coals still embedded in the ashes. Make sure to wear gloves as well. Lastly, a 5 gallon plastic bucket will melt with hot coals – just saying.
6. Don't Place Wrapped Packages/Boxes Near A Fire
Because of combustibility, it is NOT a good idea to place your neatly wrapped gifts or boxes near the fireplace while a fire is present. Make sure to keep all combustible materials at least 3 feet away from any candles, portable heater, wood stoves and fireplaces.
7. Do Not Burn Wrapping Paper
Wrapping paper, other boxes, cardboard packaging, and color paper contains additives when make burning these types of materials dangerous. The chemicals used in these products cause extremely high temperatures when burned. These higher temperatures could trigger a chimney fire. Do not burn your wrapping paper in the fireplace.
8. Do Not Burn Your Christmas Tree
It is not uncommon for some to think of disposing their Christmas tree by chopping them up and burning them in the fireplace. This is a bad idea. Unless the tree has been properly dried for burning, it may become a fire hazard.
Read: 8 THINGS NOT TO BURN IN YOUR FIREPLACE
9. Keep a Fire Extinguisher On Hand
This rule seems obvious, but we wish more people would act – get a fire extinguisher(s) for the home. Fires that can happen. It is always recommended to keep a fire extinguisher close by in order to put it out before it's too late.
Questions? Ask a Chimney Sweep
At Baun's Chimney Sweeping, we're not here for just chimney inspections or chimney sweeping, we're here to make sure you stay safe when using your fireplace or wood-stove. If you have questions about fire safety and what you should and should not burn in your fireplace, we would rather have you contact us or any chimney professional with your questions than to take unnecessary risks.
---
If you live in or around the Indianapolis, IN metro and are looking for chimney inspection or chimney sweep, consider Baun's Chimney Sweeping.